Video Credits – How to Bill series
Purchase Watch Credits to gain access to our videos. You will be setup with your very own "Watch" account where you can view videos of your choice.
Interested in a few videos? Buy as many as you would like to! Or check out our subscriptions for a good bundle deal on our AIMAC courses, videos, and webinars.
$30.00
Online

Australia
Bite Size Medicare Lessons How to Bill 39131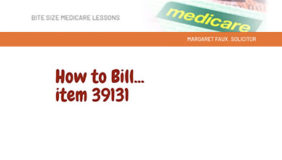 How to Bill Series

Australia
Bite Size Medicare Lessons
How to Bill 39131
By Dr Margaret Faux (PhD), Solicitor

Bite Size Medicare Lessons How to Bill 39131
How to Bill Series

Australia
5 min